But often, to get into these programs, Vasey said, you have to know how and where to find them. Sometimes that means stalking construction sites and begging the foreman to give you a chance. For women in particular, that can be daunting. Other times, there are limited application periods and yearslong waitlists.
Pre-apprenticeships can help fill that void, because class curriculums are devised with input from local trades unions, whose members drop in for guest lectures about what it takes to succeed in a particular trade. (Hint: If you're scared of heights, a career as a roofer might not be the way to go.)
The current pre-apprenticeship initiative builds on earlier efforts following President Barack Obama's 2009 stimulus plan and a 2014 California program for the clean-energy industry, said Tim Rainey, executive director of the California Workforce Development Board. The idea is to get disadvantaged Californians sufficiently trained in the soft skills, like showing up on time, interviewing, and learning how to work on a team, so that they qualify for highly competitive apprenticeships with construction projects.
Advocates argue that women, in particular, benefit from that kind of intensive coaching.
"You have to be intentional about bringing women into the industry," says Vasey of Tradeswomen Inc. "Otherwise, they're going to hire the one-armed, one-eyed, ex-offender male before they hire a woman."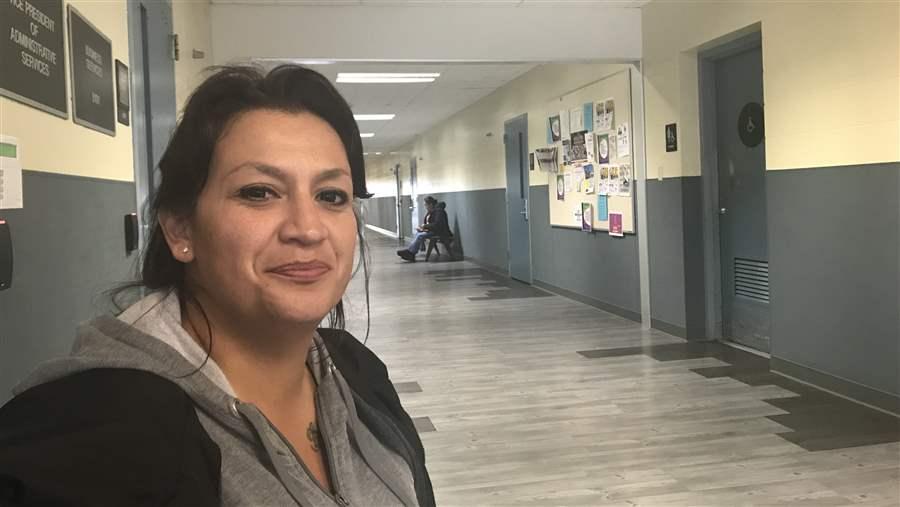 Sandra Alvarez takes a break after her all-day pre-apprenticeship class in San Jose, California. She's hoping the class will launch her career in construction.  Credit: The Pew Charitable Trusts
Opening Doors
A small cohort of women started entering the construction industry in the late '70s and early '80s, during the full bloom of the women's liberation movement. At the same time, affirmative action required that the construction trades open up to them. In 1978, President Jimmy Carter set a goal to have women constitute at least 6.9 percent of the workforce among construction companies with federal contracts. But women in the trades were met with hazing and hostility. Attrition was high.
The only source of federal construction dollars that can be targeted to women and other disadvantaged groups, including pre-apprenticeships, comes through set-asides from federal highway resources allocated to states, said Lauren Sugerman, national policy director of Chicago Women in Trades, an advocacy and training group. But the set-aside is not mandated and most states don't elect to use it, she said. Maine used the money in the '90s on a bridge project, and thanks to aggressive enforcement and funding for pre-apprenticeships for women, the numbers of women in construction there jumped to 11 percent, she said.
And there's never been a dedicated stream of funding for pre-apprenticeships for women, she said. Over the years, there have been limited demonstration grants through the Job Training Partnership Act. In 1992, Congress passed the Women in Apprenticeship and Nontraditional Occupations Act, which provides $1 million a year in grants and technical assistance to encourage the employment of women in manufacturing, transportation and construction. But the program reaches only a handful of groups around the country.
In California, groups such as PolicyLink, an Oakland-based research and advocacy group focused on economic equity, want the state to do more to ensure that contractors hire graduates from the pre-apprenticeships.
But because affirmative action by public employers is illegal in California, Rainey said, the state can't set specific goals for hiring or training women or other disadvantaged groups.
And there's a chance that the broader transportation law won't survive. Republicans in the California House are pushing to repeal the law, and voters will decide in November whether to continue paying the gas tax hike.
As a means to hire more women and underserved Californians, construction jobs make sense for a lot of reasons. You don't need a college career to earn a good living: Experienced tradespeople can make between $25 and $50 an hour — even apprentices average $15 an hour to learn on the job.