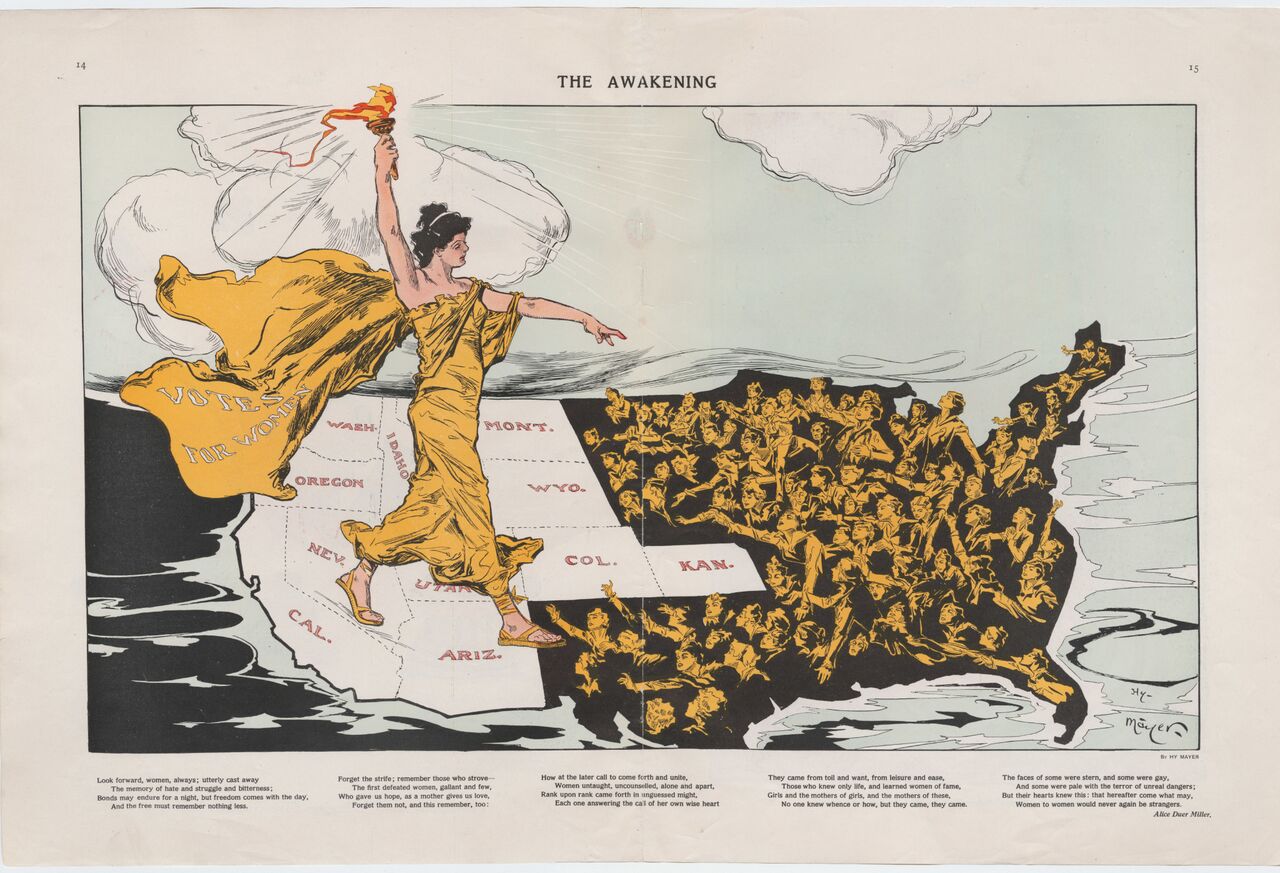 The Awakening, February 20, 1915 Chromolithograph; Cornell University - The PJ Mode Collection of Persuasive Cartography
Workshops
Wikipedia Edit-a-thon: Feminism and the Arts
Sunday, March 10; 10:30 a.m.­–3 p.m.
Smithsonian American Art Museum, enter at Eighth and G streets N.W.
Visitors can join the Smithsonian American Art Museum and Art+Feminism for a Wikipedia edit-a-thon, where participants will learn how to edit and create new articles about women artists. The program will begin with a special tour of remarkable women in the museum's collection. All levels of technological savvy are welcome. Registration is required at saamprgrogams@si.edu.
On Saturdays and Sundays, at 1 p.m., the National Portrait Gallery* hosts Portrait Story Days. Visitors will hear stories and create art inspired by women throughout history. Featured figures in March include Elizabeth Cady Stanton, Belva Lockwood, Sonia Sotomayor and Alice Paul.
On Saturday, March 9, the National Air and Space Museum's Udvar-Hazy Center will host "We Can Do It! Women in Aviation and Space" Family Day. From 10 a.m. to 3 p.m., visitors of all ages can enjoy activities inspired by stories of the women in air and space.
Mondays, March 11 and 25, the National Portrait Gallery's Young Portrait Explorer program will focus on Elizabeth Cady Stanton. Toddlers up to age 5 and their adult companions will learn about the suffrage leader in a program that teaches art and history through storytelling. The event is free, but registration is required at npg.eventbrite.com.
The Sackler Gallery of Art will celebrate the opening of "Empresses of China's Forbidden City, 1644–1912" with a day of activities Saturday, March 30. From noon to 5 p.m., visitors can enjoy curator talks, performances, food and art activities for all ages.
Empress Xiaoxian, Qing dynasty, Qianlong period, 1777, Peabody Essex Museum
Performances and Films
Honoring Queen Liliʻuokalani
Saturday and Sunday, March 9–10; 11:30 a.m. and 1, 2:30 and 4 p.m.
National Museum of the American Indian
The music and poetry of Queen Liliʻuokalani is honored as part of Women's History Month and the Smithsonian Year of Music. Amy Stillman (Native Hawaiian), professor of ethnomusicology at the University of Michigan, will perform the queen's songs and discuss their impact during a period of political and cultural instability in Hawaiʻi. Kumu Hula Manu Ikaika (Native Hawaiian) and Halau Hoʻomau I Ka Wai Ola O Hawaiʻi will join Dr. Stillman in the program.
Warrior Women screening
Friday, March 22; 7 p.m.
The National Museum of the American Indian
In the 1970s, organizers of the American Indian Movement fought for Native liberation as a community of extended families. Warrior Women explores what it means to balance a movement with motherhood and how activist legacies are passed down from generation to generation in the face of a government that has continually met Native resistance with mass violence. (USA, 2018, 64 min.)
Women Directors Film Festival: Visionaries, Then and Now
Saturday, March 30; noon–8 p.m.
Smithsonian American Art Museum
A film festival highlighting the visionary work of women film directors opens with early cinematic trailblazers including Alice Guy Blaché, Lois Weber and more. Then, Trinh T. Minh-ha's documentary "Surname Viet Given Name Nam" (1989) is paired with artist Tiffany Chung's recent video work. The festival finishes with Julie Dash's beautifully remastered, award-winning feature Daughters of the Dust (1991), with a post-film discussion by author and cultural critic Christina Sharpe.
*Henrietta Lacks, until March 31, 2019: The Smithsonian's National Portrait Gallery recognizes the life of Henrietta Lacks with the installation of a 2017 portrait by Kadir Nelson.
Pages: 1 · 2