Ferida Wolff
Ferida Wolff is author of 21 children's books and three essay books, her latest being  Rachel's Roses, illustrated by Margeaux Lucas. New York: Holiday House, Available August  20, 2019. 112 pages.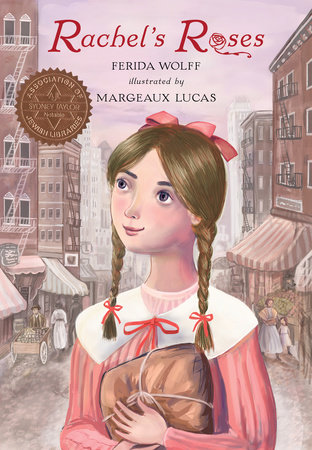 Before this latest, she wrote The Story Blanket (Peachtree Publishers) and Is a Worry Worrying You? (Tanglewood Books)
Her work appears in anthologies, newspapers, magazines, in seniorwomen.com and in her nature blog, http://feridasbackyard.blogspot.com.  A  book,  Chicken Soup for the Soul Married Life, contains two of her essays. 
Visit her at www.feridawolff.com.
Earlier this season I had found that a shallot in my fridge had started growing. I took a chance and planted it. Then I forgot about it, never really expecting anything to come of it. Then the garden surprised me. A tall stalk reached out of the dirt. I thought it was a wild onion and left it alone. It continued to shoot up and then there was an intriguing flower at the end of it. When I dug it up to see what was growing, I saw the shallot had grown and multiplied! Not only was the flower beautiful to see but the shallots were delicious to eat.
more »
---
Everything has its blossoming time. The petals are now beginning to fall, coating the back lawn with color. And now the rest of the garden is starting to expand. I am looking forward to the tomatoes we already planted and to the hibiscus that are just starting to peek out of the dirt. But meanwhile, I appreciate what I can see. When the flowers are all gone, the Tulip Tree will provide us with welcome shade. Ah, sitting outside with nature and being in the moment — another delightful gift.
more »
---
Ferida Wolff writes: The rabbit blended in so well I had trouble seeing it at first. Its coat picked up the gray of the broken branches, the brown of the fallen leaves and the white of the small stones scattered throughout the patch. Seeing the rabbits made me think of how we all adapt to our environments. We learn to accept some things we are given and change others. We can shift our perspective to create a safer space and blend in when necessary. We and the rabbits are fast learners. It helps us to live and to thrive.
more »
---
Ferida Wolff writes: It's hard to ignore the changes that are taking place across the world. The atmosphere is heating up, causing glaciers to melt, oceans to rise, more floods, and fires in drier lands. And yet, we can still have snow at the beginning of Spring. It reminds me not to take anything for granted. Trees are so strong and impressive yet they, too, are part of the progression of life. Even as we plan for the future we can live moment to moment along the way. Which is good to remember because another rain/snow storm is expected tomorrow.
more »
---