Ferida Wolff
Ferida Wolff is author of 21 children's books and three essay books, her latest being  Rachel's Roses, illustrated by Margeaux Lucas. New York: Holiday House, Available August  20, 2019. 112 pages.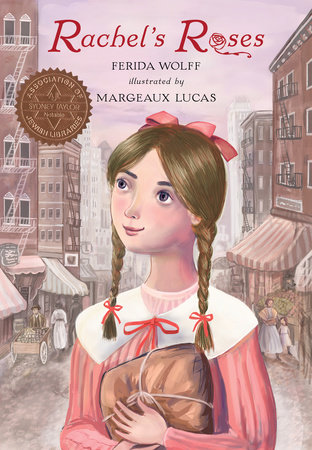 Before this latest, she wrote The Story Blanket (Peachtree Publishers) and Is a Worry Worrying You? (Tanglewood Books)
Her work appears in anthologies, newspapers, magazines, in seniorwomen.com and in her nature blog, http://feridasbackyard.blogspot.com.  A  book,  Chicken Soup for the Soul Married Life, contains two of her essays. 
Visit her at www.feridawolff.com.
I know I complain about the squirrels eating everything we plant, the reason we constructed a screened-in vegetable garden, but in truth, I like them. They are inventive and extremely smart. They help me remember that 'different' is only an adjective, it does not mean inferior. And different is how we all are, from other life forms and from each other. If only we can learn to appreciate the value of differences within all of life, perhaps we would not be so quick to do harmful things to each other.
more »
---
We are greeted by the most amazing azalea bushes in our front yard! Big puffs of pink remind us of the beauty of Spring. The warmer weather is not just about the brilliance of a flowering bush. I get yelled at each time I pass by the Smoke Tree in our backyard. The yeller is a robin trying to get me away from her nest and the four beautiful blue eggs inside. She, or he because both male and female robins are very protective of the nest, zooms out of the Smoke Tree and onto an extended peach tree branch, all the while watching me with intense eyes. When I move out of the immediate nest area, the robin flies back to the nest, no doubt content that the immediate danger has passed. I understand her/his need to protect the potential babies.
more »
---
Ferida Wolff writes: "So much is happening in the world today that a simple gift of nature like this is much appreciated. The delicate pink flowers remind me of how life flutters on, how it shifts from beautiful to decimated and hopefully back again to a space that offers us a chance to take a deep breath, to experience joy and to share our awareness of life's flowering with those around us."
more »
---
Ferida Wolff writes: This Fall, though, has been slow in offering up its charms. The summer heat seemed to last longer than usual. I wonder if our winter weather will be different as well. Certainly different from my childhood memories of autumn. Weather-wise there are more storms, more drought, more floods all across our nation and the world. There is more political animosity, more anger, more active hatred. I try to look at people in a universal way, hoping to see what connects us rather than tears us apart. I look for the joy in life even though I know there are times for grief.
more »
---