Ferida Wolff
Ferida Wolff is author of 21 children's books and three essay books, her latest being  Rachel's Roses, illustrated by Margeaux Lucas. New York: Holiday House, Available August  20, 2019. 112 pages.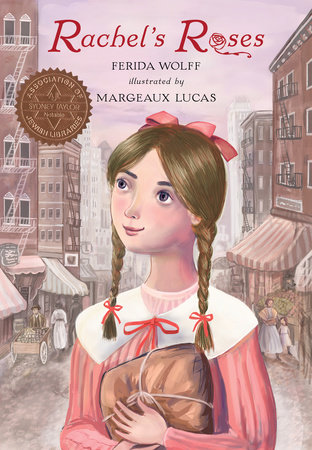 Before this latest, she wrote The Story Blanket (Peachtree Publishers) and Is a Worry Worrying You? (Tanglewood Books)
Her work appears in anthologies, newspapers, magazines, in seniorwomen.com and in her nature blog, http://feridasbackyard.blogspot.com.  A  book,  Chicken Soup for the Soul Married Life, contains two of her essays. 
Visit her at www.feridawolff.com.
Ferida Wolff writes: "Sometimes there is ice on the morning windshield and by afternoon jackets aren't needed. Snow may be predicted but we haven't seen a snowstorm yet. One day the wind was so aggressive that it moved things sideways. Another day was so foggy that it was hard to see beyond a few feet. The weather has been puzzling for a while now." And another source: "Solving jigsaw puzzles is a low-cost, intrinsically motivating, cognitive leisure activity, which can be executed alone or with others and without the need to operate a digital device."
more »
---
Ferida Wolff writes: In America, we accept many different pronunciations and still understand what is meant; it is the word itself that conveys its meaning. In China, it is the tone of the character that makes the word and, depending upon which is used, the meaning changes. The character ma, for instance, can mean you are calling your mother, asking a question, naming a horse, or saying something offensive. So, armed with our new linguistic knowledge, we headed off on our own into the shops that lined Nanjing Road, a major shopping area in Shanghai.
more »
---
Ferida writes: This is strange autumn. Mother Nature seems confused. The temperature is bouncing up and down, sometimes zooming into the 90s. Our tulip tree, which usually loses all of its leaves by the end of August, still is partially green. The backyard normally is awash in leaves by now but the maple trees are only reluctantly shedding their foliage. If Mother Nature is confused, how are we to understand what is happening around us? We were up in the Alps not long ago and the temperature plus humidity soared to over 105 degrees! It's hard not to take the concept of climate change seriously when the climate is changing all around us.
more »
---
As I ate each bite of the gift tomato I remembered our friendship and valued all that we have shared over the years. It was as much a treat in its own way as the heirloom tomato was. I think if we pay attention to the wholeness of what we experience, life ripens in our hearts as well as in our gardens. I thought of the immigrants who come to our country. There are differences, yes, but traditionally we have accepted them. Are we changing our generosity for politics? Have we forgotten that we were all immigrants at one time? Swans and ducks are all birds. Americans and immigrants are all people. If they can accept each other, surely we can do the same. 
more »
---