Ferida Wolff
Ferida Wolff is author of 21 children's books and three essay books, her latest being  Rachel's Roses, illustrated by Margeaux Lucas. New York: Holiday House, Available August  20, 2019. 112 pages.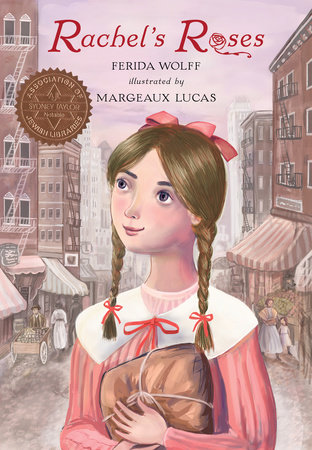 Before this latest, she wrote The Story Blanket (Peachtree Publishers) and Is a Worry Worrying You? (Tanglewood Books)
Her work appears in anthologies, newspapers, magazines, in seniorwomen.com and in her nature blog, http://feridasbackyard.blogspot.com.  A  book,  Chicken Soup for the Soul Married Life, contains two of her essays. 
Visit her at http://feridawolff.net/.
Ferida Wolff writes: "And then one day, while trimming the bushes on the other side of the yard, a nest with blue eggs appeared! Was this robin protecting that nest even though it was away from the house? And were these eggs actually the robin's eggs? Other birds lay blue eggs. Plus, within the bush was a different bird that was warning us to stay away. I guess we will have to let nature take its course. If this nest is the robin's, then when the birds hatch and eventually fly off, the aggressive window banging should stop. After all, parents need to protect their young. But wait, did I just see another robin gathering bits of dry grass and bringing them to the bush by the window?"
more »
---
It stopped when night came and I hoped that it was finished with whatever prompted its action. No such luck. I was awakened in the morning by the now-familiar thumps. The robin was back at it. I thought that maybe if I blocked off the window with a blanket it would discourage the robin. It continued anyway. I removed the blanket and looked straight at the bird, telling it to leave. It just stared at me but didn't fly away.
more »
---
Ferida Wolff wrote: "Goodnight," I crooned. I gently patted his back until he settled down. When I heard his breathing get deeper, I thought it was safe to tiptoe out of the room as I had done so many years ago with my tiny toddlers. I didn't reckon on my joints. My toes cracked with my first step. How could anything so little sound so loud? It was loud enough to wake him. So I patted and shhhed until, once again, he was asleep. I wiggled my toes before starting my retreat to warm them. Then I moved very slowly, keeping each step balanced and light. I almost made it to the door when my knee exploded. Crack. There was no way my grandson would sleep through that! Sure enough, I heard him call me.
more »
---
Ferida Wolff Writes: "Seeing the daffodils perking up brings to mind the rest of my backyard. My weedy vegetable garden needs to be cleared for new plantings. I have cucumber seeds and tomato seeds and lots of herbs all waiting to be given their chance to thrive. I'll remove the dead branches from the hibiscus plants when the new ones start to come up. What a wonderful way to view the season. The daily temperatures may still be shifting but I am eager to start Spring planting."
more »
---