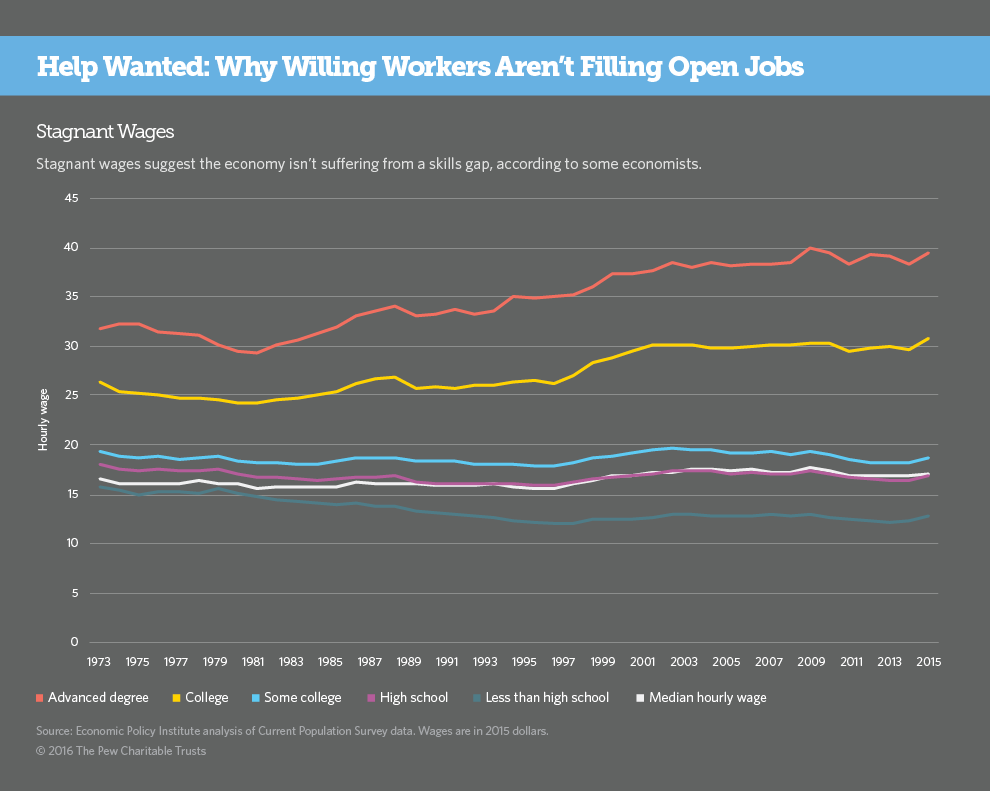 National employment numbers provide a broad overview of the labor market, but they are too murky to explain why employers can't fill certain jobs. The closer you get to the local level, the clearer it becomes that multiple factors hold back hiring, and that those factors differ by job, industry and location.
"The national skills gap notion is a fallacy, because there's no national labor market. There are regional labor markets," said Lesley Hirsch, director of the New York City Labor Market Information Service. Regional labor markets have slightly different dynamics depending on the industry mix and the types of workers there.
The head of Minnesota's Labor Market Information Office, Steve Hine, knows this well. Twice a year, Hine's staff surveys a cross section of Minnesota companies to ask them about their openings. In 2012 and 2013, it followed up with employers looking for workers in health care, engineering, manufacturing and information technology — fields supposedly suffering from a skills gap.
When hiring was difficult, employers gave multiple explanations for it. In 2013, for example, Minnesota manufacturers said two-thirds of all their openings were hard to fill, but that only 14 percent of positions remained open purely because applicants didn't have the right education and training. Instead, most employers had a hard time filling jobs because of a mix of factors. A lack of applicants with the right skills was one reason. But there were many others, including location, low wages and undesirable shifts.
"The job is not that specialized," one manufacturer said of a position it had trouble filling. The problem was finding someone willing to live in a small town and work long hours for low pay.  The surveys also found that the qualification many employers wanted most was prior work experience in a similar role.
"We always have difficulties filling this position because we require specific experience in test engineering in the electronics industry. There might be total of 150 qualified people in the Midwest!" said one employer of  industrial engineers.
To Hine, the focus on work experience suggested that employers were being too picky. They wanted to hire someone who could be fully productive on day one. But at the same time they weren't willing or able to pay enough to attract that perfect candidate.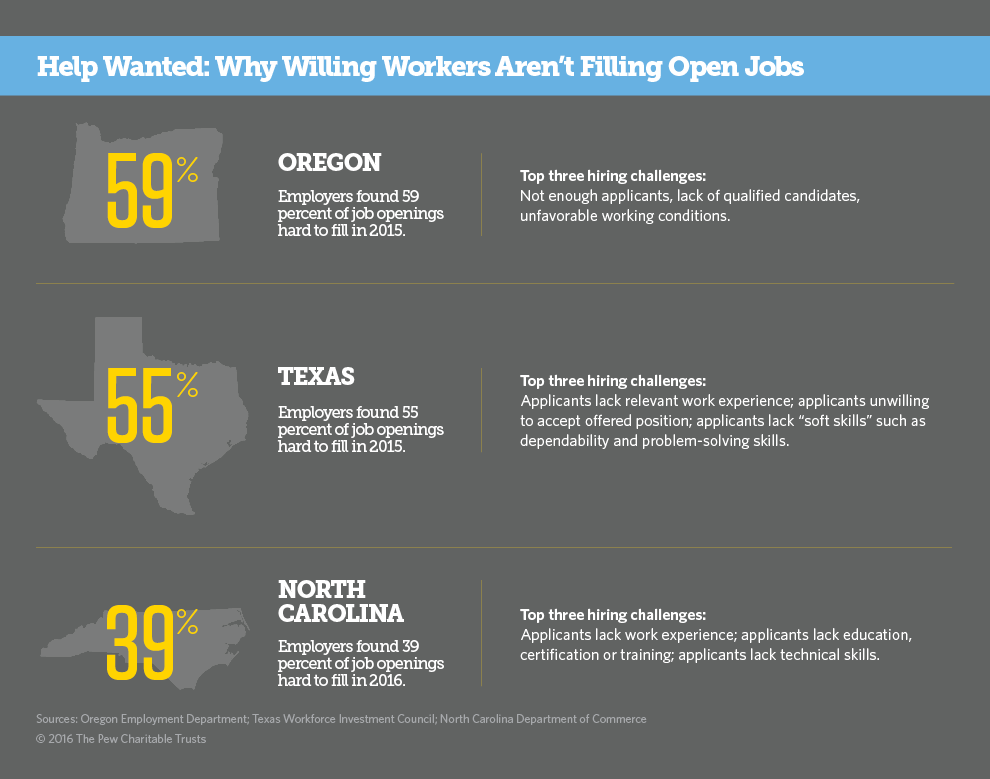 Recent job vacancy surveys from Minnesota and several other states continue to show that a mix of factors makes jobs hard to fill. Oregon's latest survey notes that about half of jobs there are difficult to fill for reasons that would be hard to address through workforce development, such as unfavorable working conditions or inconsistent work shifts.
It's worth noting that employers can't always diagnose their own problems. Only 22 percent of employers surveyed by Utah's Department of Workforce Services last year named low wages as a hiring problem, but 68 percent of those employers were offering below average wages.
Unions have traditionally mediated between employers and employees, but they are present in fewer workplaces than they once were. A growing number of jobs are subcontracted, so one party may control hiring while another controls the structure of the job.
Automation and downsizing have also reduced the number of hiring managers at firms, and hence the number of people who can push back on unrealistic job descriptions, according to Peter Cappelli, a professor at the University of Pennsylvania's Wharton School.
Ramping Up Recruitment     
In the past year or so, as the economy has improved and fewer people are out of work, companies have ramped up recruiting.
Cambria has been pulling out all the stops to lure people to its two facilities in southern Minnesota. It has thrown pizza parties for the engineering club at the nearby state university, added paid internships, raised wages, and started offering English classes to Spanish-speaking production workers — a move the company hopes will retain those workers and prepare them for promotions.
The company's top leaders don't understand why they're still having trouble hiring. Brian Scoggin, Cambria's executive vice president of operations, said the facilities in rural Minnesota face one obvious problem: there just aren't that many people living nearby. But population density can't be the only factor, because Cambria's Toronto facility has some of the same problems.
Skills gaps are a problem for some positions, and the Greater Mankato area — and regions like it around the country — has pulled together to create new associate degrees and postsecondary certificate programs for those jobs. One associate degree that should help Cambria teaches students to fix automated assembly lines.
And Minnesota, like many other states, is trying to help students choose college programs and plan their careers by collecting and publishing data on earnings after graduation.
Many of Cambria's open jobs don't require much education, however. The overwhelming majority of open production jobs across south central Minnesota don't require a college degree, in fact. Nor do almost two-thirds of openings statewide.