Asger Jorn's 
Untitled
, c. 1941. The ideas of European Surrealists fascinated Jorn, and the lively colorful, abstract forms in this work, transform an ordinary barrel into a thing of beauty.  In its fusion of the ordinary with high art, the work aspects of later twentieth-century art movements, such as Pop art.
Carl-Henning Pederson's Eventyrbillede (Fairytale Picture), 1943, depicts a menagerie of elongated, floating forms and bright colors and abstract shapes that engage the viewer in a world of fanciful imagination.
Frida Kahlo and Diego Rivera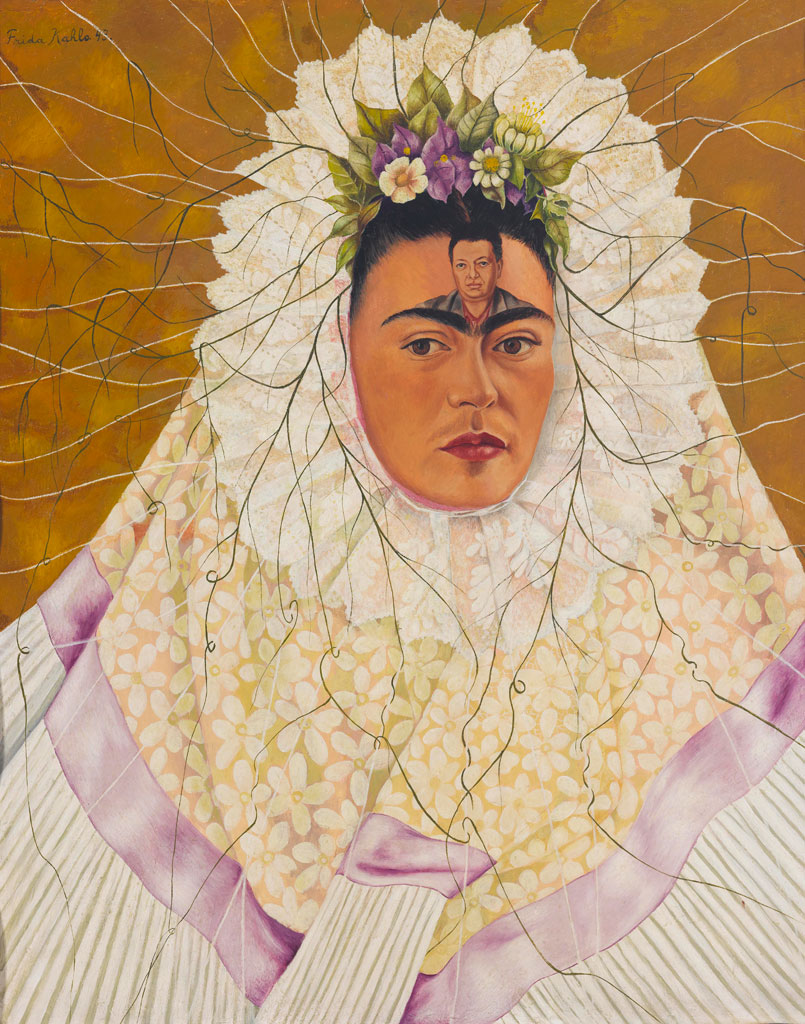 Paintings by Frida Kahlo (1907–1954) and Diego Rivera (1886–1957), two of the most celebrated artists of the early 20th century, will be on view in a group exhibition of 75 works at NSU Art Museum Fort Lauderdale  through May 31, 2015: Frida Kahlo and Diego Rivera from the Jacques and Natasha Gelman Collection & 20th Century Mexican Art from the Stanley and Pearl Goodman Collection.
Showcasing the rich artistic traditions of Mexico and the passionate and patriotic pride of its artists, the exhibition features masterworks by Kahlo and Rivera along with paintings, sculptures and works on paper by other influential Mexican artists involved in the country's political and social struggles, including Leonora Carrington (1917-2011), Gunther Gerzso (1915-2000), José Clemente Orózco (1883-1949), Wolfgang Paalen (1905-1959), Alfredo Ramos Martinez (1917-1946), David Siqueiros (1896-1974), Rufino Tamayo (1889-1991), and Remedios Varo (1908-1963). Together, their work helped to define Mexican modernism, demonstrating the broad range of artistic expression and varying political forces that shaped the country's cultural heritage.
Frida Kahlo Diego on My Mind (Self Portrait as Tehuana), 1943 Oil on masonite The Jacques and Natasha Gelman Collection of 20th Century Mexican Art, Vergel Foundation and the Tarpon Trust © 2015 Banco de México Diego Rivera Frida Kahlo Museums Trust, Mexico, D.F. / Artists Rights Society (ARS), New York
Accompanying these works are photographs of Frida and Diego by American and Mexican photographers such as Leo Matiz (1917-1978), Martin Munkácsi (1896-1963), and Nickolas Muray (1892-1965), who documented the vastly different personalities of Kahlo and Rivera in portraits included in the exhibition. The artists' mutual passions and shared political and artistic convictions bound them closely.
 The exhibition also inaugurates NSU Art Museum's Stanley and Pearl Goodman Center for the Study of Latin American Art, the only resource of its kind for scholars in the region. A portion of the library and archived documents will be on view in a section of the exhibition.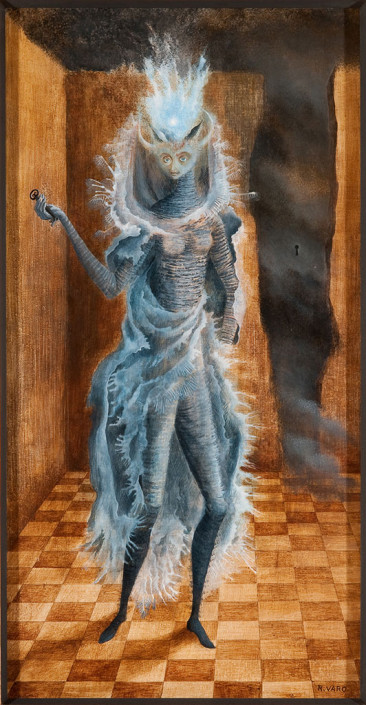 The Jacques and Natasha Gelman Collection is known for its significant holdings of work by Kahlo. The collection was established in 1941 by Jacques Gelman (1909-1986), a successful filmmaker, and his wife, Natasha (1912-1998), two Eastern European immigrants who met and married in Mexico City, before becoming Mexican citizens in 1942. The couple were passionate about the art and culture of their new homeland, becoming devoted art patrons and establishing close friendships with Kahlo, Rivera, and many of their contemporaries.
Outstanding paintings from the collection include many of Kahlo's best-known self-portraits including Diego on my Mind (Self-Portrait as A Tehuana), 1943, where Kahlo gazes at the viewer, enshrined in the elaborate headdress traditional to Mexico's southwest region with a portrait of Rivera inscribed on her forehead; Love Embrace of the Universe, Earth (Mexico), Myself, Diego and Señor Xolotl, 1940, presenting a mythical portrait of Kahlo cradling Rivera's naked body in her arms; and Self-Portrait with Monkeys, 1943, a well-known image the artist surrounded by monkeys.
Remedios Varo, The Minotaur, 1959 Oil on Masonite Goodman Collection © 2015 Artists Rights Society (ARS), New York / VEGAP, Madrid
Pages: 1 · 2