by Rose Madeline Mula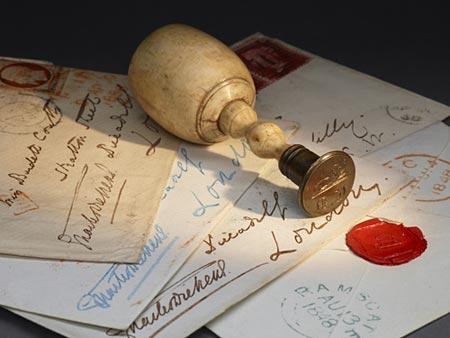 I still remember how I used to love Christmas.  That's really amazing considering how bad my memory is and how long it's been since the sight of tinsel and holly and the sound of  "Jingle Bells" have made me joyous instead of nauseous. 
Right, from the J.P. Morgan Library online exhibit of Charles Dickens at 200
Looking back, I think the magic disappeared just about the time the big kids told me there was no Santa Claus. Even at that tender age, my precocious little mind must have deduced that if Santa didn't bring all those swell presents, someone sure as heck had to go out and buy them.  Goodbye Ho, Ho, Ho!  Hello, Boo Hoo, Hoo!
Since then, Christmas shopping has become my least favorite activity, even worse than having a root canal; and it gets progressively worse each year as it becomes increasingly harder to figure out what to buy people that (1) they would like, and (2) they haven't already bought a more expensive version of for themselves. 
Years ago, that wasn't the case, and gift selection was no problem.  Aunt Clara was delighted if you bought her a pair of silk stockings. (Does anyone remember stockings?  They were like pantyhose, only split in half, and without the panty).  Of course, if she preferred panties you bought her a pair of what were called  "snuggies."  These were like bikini underpants, except they were knee-length, high-waisted, and made of flannel.  And Uncle Joe was happy with a couple of handkerchiefs.  These were something like Kleenex, only they were fabric and you washed and re-used them instead of throwing them away.
As for the children, we've all heard stories about how, in the good old days,  kids used to be beside themselves with joy if they found so much as an orange, instead of a lump of coal, in their Christmas stockings.  Today it's not so easy to please a kid.  Unless the eight-foot tree is completely hidden behind a pile of bionic, electronic, computerized, over automated and overpriced toys that cost more than you used to have to spend to furnish an entire house (real, not doll), they start reading you their Constitutional rights.
(They interpret the dictum that "all men are created equal" to mean they should get as many expensive presents as the spoiled rich brat across town.)  Yep, things sure have changed.  The only way an orange would please a child today would be if he got to pick it himself from a tree growing in Disneyland.
And, as I said, every year it gets worse — and it starts earlier.  The Christmas ads (which used to be respectful enough to wait until the Thanksgiving turkey was cold) now compete for space with ads for the post-Fourth-of-July sales (which start appearing in May).  It really makes me sick.  Not that Macy's and Nordstrom's aren't lovely stores, but they weren't where I had planned to spend my summer vacation — or the money I had saved up for my summer vacation.
Pages: 1 · 2