by Rose Madeline Mula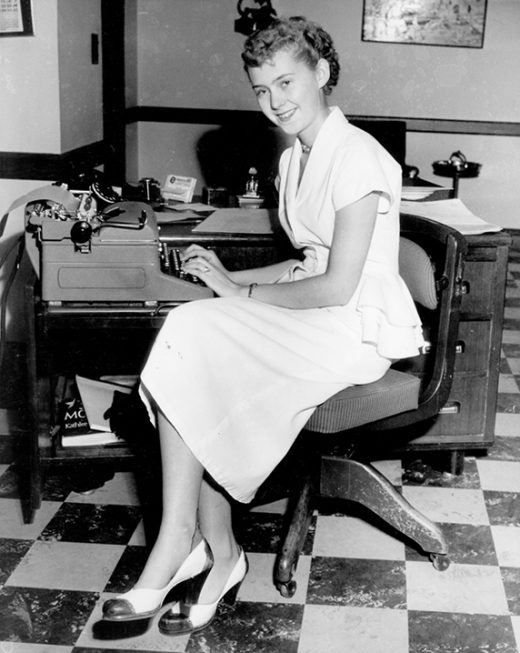 Remember the offices of yesterday — when the woman who did ten times the work of the boss (male, of course) for one-tenth the pay wasn't an Executive Assistant?  Back then she was called a secretary.  She was also called a girl, as in, "Let's get together ... I'll have my girl call your girl." 
Right, Fay N. Christenson, legal secretary at her desk, 1952. Photo: Courtesy of the Goldstein Museum of Design
Not only did we "girls" have no respect.  We also had no word processing.  What we had was the typewriter.  For young people who may never have seen one of these ancient contraptions (and for former bosses who wouldn't demean themselves by getting within spitting distance of one), a description follows: 
A typewriter was a single-unit machine with a keyboard similar to that of a computer, but without the function keys.  No monitors.  No printers.  Instead, the typewriter incorporated a roller device above the keyboard.  The typist would wind paper into the roller, and as she (typists were never "he") struck the keys, she activated individual levers, one for each letter and symbol, which would spring up and transfer the corresponding character to the paper in the roller.  This was pre-electric machines.  I'm talking manual here — clunkers with keys that one had to pound to activate the levers.  We girls practiced for years in order to increase finger agility and speed.  But when we achieved those goals we were stymied because if we typed too fast, the levers would all pile up on each other,  and would jam.
The characters were transferred to the paper through the magic of a typewriter ribbon — a heavily inked, narrow band of fabric on a spool.  We had to wind this ribbon through an intricate pathway of metal guides and then attach it to a take-up spool on the opposite end of the machine.  In the process of installing a new ribbon, we usually managed to transfer most of the ink that was originally on the ribbon to our hands and clothes.  Consequently, after typing a few pages, the print on the paper would become so faint, we would have to install a new ribbon.    
Pages: 1 · 2