December 19, 2019 – May 3, 2020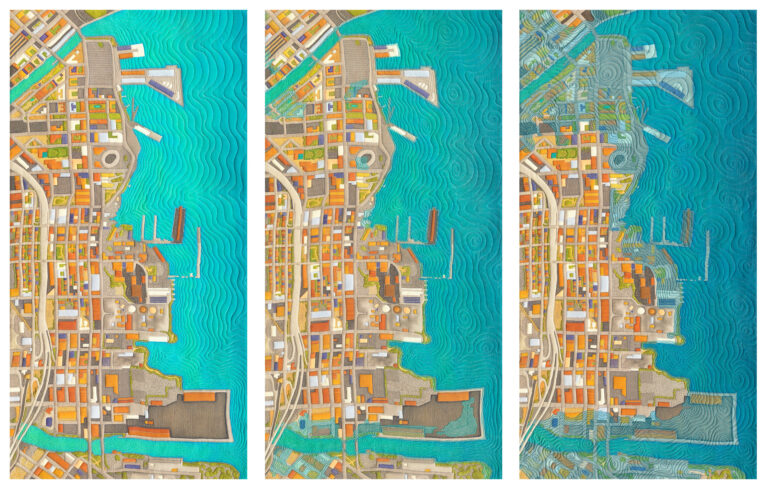 Linda Gass, Dogpatch: Impact of Climate Change and Sea Level Rise; 2019 silk crepe de chine, silk dyes and water soluble resist, polyester or wool batting, silk broadcloth, rayon embroidery thread, polyester thread 
December 19, 2019–May 3, 2020
Guest curated by Randy Jayne Rosenberg of Art Works for Change (AWFC) this exhibition follows the idea that addressing climate change must include ensuring durable, long-term housing solutions for vulnerable populations. For example, participating artist Tina Hovsepian's Cardborigami (2016) installation showcases her lightweight and sustainable cardboard shelters that are big enough for two people to sleep in and can fold small enough to carry. In a similar vein, the projects and design concepts in the exhibition highlight how we need to rethink and develop robust housing designs that are flexible, resilient, and adaptable to survive the future effects of a changing environment.
The exhibition at the Museum of Craft and Design in San Francisco aims to make concepts accessible to a general audience and to address climate change through four centralized themes that reflect key characteristics about survival architecture: Circular — the importance of creating structures made of materials that can be used and reused indefinitely; Portable — the ability to create easily moveable  and nomadic dwellings; Visionary — forward-thinking ideas that can radically change the way we think about shelter; and Resilient — structures that can adapt to adverse and dynamic circumstances.
Science, technology, architecture, and art converge within the exhibition to question the nature of what it means to survive climate change and natural disasters. How do we design and retrofit our built world to adapt to increased uncertainty and do it affordably? How do we produce dwellings that have a full life cycle of durability pre-, during, and post-disaster?
Climate change represents a vastly different kind of environmental challenge, requiring out-of-the-box thinking in how we adapt to and survive the expected onslaught of extreme weather and other disruptions," said Rosenberg. "Artists are uniquely adept at re-envisioning our world and how we relate to it, as this exhibition shows."
Editor's Note: Shop Linda Gass's Environmental Art