Back to Top
PLANTS AND PIPETTES PODCAST

SCIENCE

Readers curious about the world of scientific research, particularly molecular plant biology, may want to check out Plants and Pipettes. First launched in February 2019, this delightfully quirky podcast is the work of Joram Schwartzmann and Tegan Armarego-Marriott, who are respectively a PhD student and a postdoc at the Max Planck Institute of Molecular Plant Physiology in Potsdam, Germany. In each episode, Tegan and Joram take turns explaining and breaking down a recent scientific paper, translating the jargon into approachable language that general audiences can more easily grasp. Each episode also features the podcasters' favorite plant of the week, and they frequently discuss other aspects of research and academic publishing, as well as scientific news and fun cat facts. Episodes vary in length, but most are around an hour long. Those interested can stream and download episodes of Plants and Pipettes at the link above, and the podcast is also available via platforms such as Apple Podcasts. Readers should also check out the rest of the Plants and Pipettes website, where they will find engagingly written blog posts (found under Articles) as well as a short Glossary of scientific terms (found at the bottom). [JDC]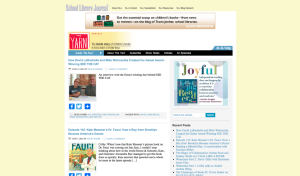 SCHOOL LIBRARY JOURNAL: THE YARN

SOCIAL STUDIES

Librarians, teachers, and those interested in hearing behind-the-scenes stories about creating and publishing kids' books may enjoy The Yarn, a podcast from School Library Journal that focuses on children's literature. First launched in August 2015, The Yarn is hosted and produced by elementary school librarian Travis Jonker and third grade teacher Colby Sharp. Here, listeners will find a collection of fascinating interviews with authors and illustrators of children's books, all conducted in person, with some episodes recorded in front of a live audience. Examples of The Yarn's interviewees include Kazu Kibuishi, creator of the popular Amulet graphic novel series; Abby Hanlon, author and illustrator of the Dory Fhantasmagory series; and Jess Keating, author of the World of Weird Animals series. As a special treat to celebrate their 100th episode (released in September 2019), Colby and Travis discuss how The Yarn has evolved over time, their interview and podcast process, and their "favorite, not-so-favorite, and funniest moments from the show." Those interested can listen to The Yarn online or subscribe through Stitcher, Spotify, and other platforms. [JDC]

 

 
COFFEE BREAK LANGUAGES: PODCASTS

FOREIGN LANGUAGES

For those studying a foreign language, whether independently or in a formal course, these free podcast series offered by Coffee Break Languages may come as a welcome aid for improving listening comprehension. Here, readers will find dozens of helpful audio lessons for French, Italian, Spanish, German, and Mandarin Chinese. Each podcast series features one or more native speakers teaching their language to Mark Pentleton, the founder of Coffee Break Languages and a self-described "language geek," in an engaging, well-organized structure that builds upon itself and encourages listeners to learn along with Mark. As the name implies, episodes are generally about 30 minutes long, enabling learners to get in a lesson on their coffee or lunch break. Each episode focuses on a specific topic and frequently integrates cultural aspects, such as food, literature, or film, that will likely be alluring both to those with travel plans and to the generally curious. Interested readers can listen and subscribe to Coffee Break Languages' podcasts via RSS feed, Soundcloud, Spotify, and other podcast platforms. Each language has its own separate podcast channel, making it easy for learners to progress through the lessons of their chosen language in the appropriate order. [JDC]

 

 
WHITE LIES

SOCIAL STUDIES

White Lies is a new true crime podcast by NPR (National Public Radio) that explores "a story about a murder that happened in 1965;" specifically, the murder of Rev. James Reeb in Selma, Alabama. Reeb, a white Unitarian Universalist minister, had traveled to Selma to join protests for African American voting rights. Journalists and native Alabamians Chip Brantley and Andrew Beck Grace go to Selma to try and solve the cold case of Rev. Reeb's death 53 years after his murder on "Bloody Sunday," March 7, 1965. Three white segregationist men (four were indicted) were tried in the murder, but all were acquitted and no one has ever been held accountable. Selma, Alabama is best known today as the epicenter of the Civil Rights movement, and Brantley and Grace speak with dozens of Selma natives who lived through the era and some who were present during the march on March 7, 1965. The result is an examination of the past through the racism and violence toward African Americans in the South, the lies, and the mythology that have trailed Reeb's murder for over half a century. White Lies should be listened to by adults only; explicit language and descriptions of violent behavior is included in the podcast. The show debuted on May 14, 2019 and is available via the link above, as well as on streaming platforms like Spotify, Google Podcasts, and more. [JLB]

 

    
TRANSOM

LANGUAGE ARTS

Readers who have thought about starting their own radio show or podcast may want to check out Transom. This resource offers a wealth of information to help its visitors learn audio storytelling, both in terms of content and technical production aspects. Under Shows, readers will find professionally produced audio and video pieces accompanied by essays from their creators giving insight into their creative process. Those wondering what tools they should use will also find in-depth reviews of microphones, recorders, windscreens, and more, while the Techniques section provides practical guides and tutorials on the craft of radio and podcasting. Advice from audio producers is available under Ideas, and this resource on audio storytelling naturally includes its own podcast entitled HowSound. In addition to browsing Transom's offerings by subject, visitors can also filter by category (e.g. gear guide, production, video) and by tag (e.g. podcast basics, editing, interviewing). Transom is administered by the non-profit Atlantic Public Media and was the first website to win a Peabody Award. [JDC]

 

Copyright © 2017 Internet Scout Research Group - http://scout.wisc.edu

The Internet Scout Research Group, located in the Computer Sciences Department at the University of Wisconsin-Madison, provides Internet publications and software to the research and education communities under grants from the National Science Foundation, the Andrew W. Mellon foundation, and other philanthropic organizations. Users may make and distribute verbatim copies of any of Internet Scout's publications or web content, provided this paragraph, including the above copyright notice, is preserved on all copies.

 
Pages: 1 · 2