On Dec. 12, 1884, the War Department designated nine acres, including the site of the old post cemetery, as San Francisco National Cemetery. It was the first national cemetery established on the West Coast and, as such, marks the growth and development of a system of national cemeteries extending beyond the battlefields of the Civil War. Initial interments included the remains of the dead from the former post cemetery as well as individuals removed from cemeteries at abandoned forts and camps elsewhere along the Pacific coast and western frontier. In 1934, all unknown remains in the cemetery were disinterred and reinterred in one plot. Many soldiers and sailors who died overseas serving in the Philippines, China and other areas of the Pacific Theater are interred in San Francisco National Cemetery.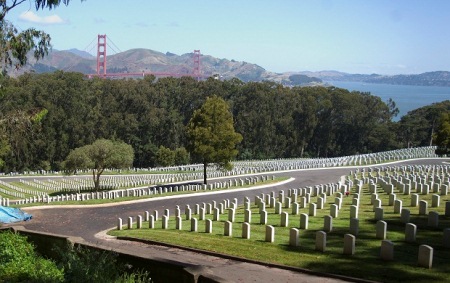 The cemetery is enclosed with a stone wall and slopes down a hill that today frames a view of the Golden Gate Bridge. Its original ornamental cast-iron entrance gates are present but have been unused since the entrance was relocated. Tall eucalyptus trees further enclose the cemetery. The lodge and rostrum date to the 1920s and reflect the Spanish Revival styling introduced to several western cemeteries.
Two unusual interments at San Francisco National Cemetery are "Major" Pauline Cushman and Miss Sarah A. Bowman. Cushman's headstone bears the inscription "Pauline C. Fryer, Union Spy," but her real name was Harriet Wood. Born in the 1830s, she became a performer in Thomas Placide's show Varieties and took the name Pauline Cushman. She married theater musician Charles Dickinson in 1853, but after her husband died of illness related to his service for Union forces, she returned to the stage. During spring 1863, while performing in Louisville, Ky., she was asked by the provost marshal to gather information regarding local Confederate activity. From there she was sent to Nashville, where she had some success conveying information about troop strength and movements. In Nashville, she was also captured and nearly hanged as a spy.
She returned to the stage in 1864, to lecture and sell her autobiography. Entertainer P.T. Barnum promoted her as the "Spy of the Cumberland" and through Barnum's practiced boostership she quickly gained fleeting fame. After spending the 1870s working the redwood logging camps, she remarried and moved to the Arizona Territory. By 1893 she was divorced, destitute and desperate; she applied for her first husband's military pension and returned to San Francisco, where she died from an overdose of narcotics allegedly taken to soothe her rheumatism. Members of the Grand Army of the Republic and Women's Relief Corps conducted a magnificent funeral for the former spy. "Major" Cushman's remains reside in Officer's Circle.
Civil War spy Pauline Cushman-Fryer narrowly escaped execution for her service to the Union cause. She is buried in the San Francisco National Cemetery at the Presidio
Also buried at San Francisco National Cemetery is Sarah Bowman, also known as "Great Western," a formidable woman over 6 feet tall with red hair and a fondness for wearing pistols. Married to a soldier, she traveled with Zachary Taylor's troops in the Mexican War helping to care for the wounded, for which she earned a government pension. After her husband's death she had a variety of male companions and ran an infamous tavern and brothel in El Paso, Texas. Bowman left El Paso when she married her last husband. The two ended up at Fort Yuma, where she operated a boarding house until her death from a spider bite in 1866. She was given a full military funeral and was buried in the Fort Yuma Cemetery. Several years later her body was exhumed and reburied at San Francisco National Cemetery.
San Francisco National Cemetery was listed as a National Historic Landmark as part of the Presidio in 1962.