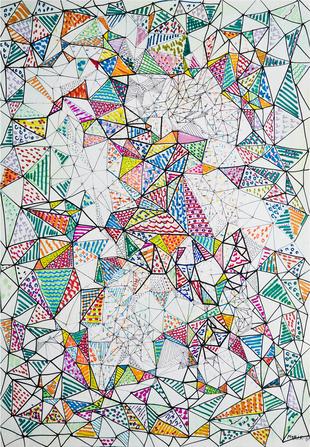 Until June 3, 2015, the Solomon R. Guggenheim Museum is presenting the first comprehensive exhibition in the United States of the celebrated Iranian artist Monir Shahroudy Farmanfarmaian (b. 1924). In recognition of a lengthy career, Monir Shahroudy Farmanfarmaian: Infinite Possibility. Mirror Works and Drawings 1974–2014 focuses on the faceted mirror sculptures and corresponding geometric drawings Monir has produced over the past forty years. The majority of the selected works in this exhibition are from the artist's own collection, and many have never been shown to the public.
Monir's rich body of work references Persian architectural and decorative tradition, the mathematical basis of geometric forms in Islamic pattern, and Sufi cosmology. When considered along with the Guggenheim's historical commitment to abstraction and internationalism, the exhibition offers a timely opportunity to examine Monir's rich body of work in its own right and as part of an increasingly transnational perspective on artistic production and its reception.
Untitled, 1980, felt-tip pen and colored pencil on paper, 63 x 44.5 cm. Collection of the artist © Monir Shahroudy Farmanfarmaian. Photo: Courtesy of the artist
Monir Shahroudy Farmanfarmaian: Infinite Possibility. Mirror Works and Drawings 1974–2014  is organized by the Serralves Museum of Contemporary Art, Porto, Portugal, where it was on view in fall 2014 before traveling to New York. The exhibition is curated by Suzanne Cotter, Director, Serralves Museum, and former Curator, Abu Dhabi Project, Solomon R. Guggenheim Foundation, with assistance from Karole Vail, Associate Curator, at the Guggenheim, for its New York presentation.
Monir Shahroudy Farmanfarmaian: Infinite Possibility. Mirror Works and Drawings 1974–2014 includes early wood, plaster, and mirror reliefs, a series of large-scale geometric mirror sculptures, and an impressive body of works on paper, focusing on a sculptural and graphic oeuvre developed over a period of more than forty years. The presentation reveals how the compositional principles used by the artist during this period were translated into large-scale commissions, including a series of etched glass doors created for a New York townhouse in the early 1980s.
A selection of previously unseen abstract works on paper produced between 1974 and 2014 reveals the central role of drawing as a conceptual foundation for Monir's sculptural practice. The artist's ambitious mirror sculptures, known as 'geometric families,' which she produced in the last decade since reinstating her studio in Tehran, will also be on view. Monir's prolific body of work is characterized by the merging of visual and spatial experience and a distinctive approach to abstraction, coupled with the aesthetic tradition of Islamic architecture and decoration, allowing for, in the artist's own words, "infinite possibility."
Born in Qazvin, Iran, in 1924, Monir attended the Fine Arts College of Tehran before moving to New York in 1945, where she studied at Cornell University and at Parsons School of Design and worked as a freelance illustrator for Vogue and as a graphic designer. These formative years in New York served as a sort of apprenticeship for Monir, who spent time alongside fellow artists Milton Avery, Willem de Kooning, Joan Mitchell, Louise Nevelson, Barnett Newman, and later Andy Warhol, among others.
Pages: 1 · 2