by Rose Madeline Mula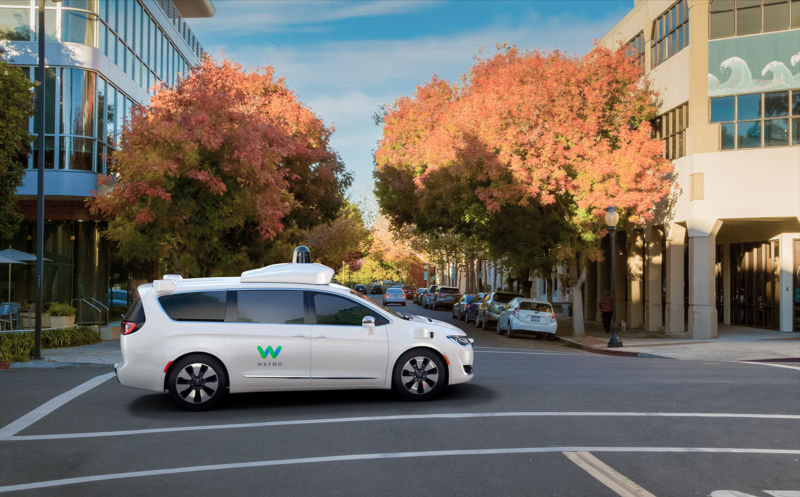 Yes. It's true. I really did almost die last week. I usually write humor, but there was nothing funny about this, though at my age it wouldn't have been tragic — and certainly not premature.  Anyway, here's what happened:
A friend (whom I'll call Zelda because that is in no way similar to her real name, and because I'm currently re-reading F. Scott Fitzgerald) picked me up to go to lunch at a nearby restaurant.  As she carefully pulled into a parking spot at the restaurant, her car suddenly accelerated and crashed through a stone wall.
Fortunately, it came to a stop just before we reached the very busy street beyond the wall, inches from what could have been a fatal collision.  Because the wall was one with no mortar holding the beautifully-balanced stones together — and because we were both still wearing our seat belts — we survived the impact with no physical injuries.
Above, photo credit: Waymo, Fiat/Chrysler Cars
Within minutes, a group of solicitous bystanders who had witnessed our unexpected space launch surrounded us, pulling out cell phones to summon an ambulance.  While assuring them that wasn't necessary — that, miraculously, we were unhurt — the shrill of sirens announced the arrival of swarms of policemen and firemen, red lights flashing from their vehicles.  
Meanwhile, people started picking up from the ground large pieces of what used to be the front end of Zelda's car, as she sat, dazed, answering the police interrogators' questions. Selfishly, one of my first feelings was relief that I hadn't been the driver, because I easily could have been.  I had a similar experience about a year ago — minus the stone wall, the busy street, the crowd of eyewitnesses, and the police and firemen. I had gone to visit a relative in a nursing home, and as I pulled into a parking space, I was suddenly airborne as my car lurched forward — luckily harmlessly into some shrubs.  Like Zelda, I had no recollection whatsoever of pressing the gas pedal instead of the brake. I would never do that, I still firmly believe. In fact, to this day I tell myself that a mechanical glitch could have been at fault. But I know that this is most likely wishful thinking and that I simply don't want to admit that I could be one of those erratic elderly drivers I read about all the time.  (Zelda, by the way, is over twenty years younger than I.)
I still feel very confident behind the wheel, and I truly believe I could drive across country — provided there are enough potty rest stops along the way.  Others, however, clearly don't agree with me. For instance, I am no longer allowed to drive to visit family in Vermont, just a bucolic 150 miles away. Instead, they insist on picking me up.  They have not yet decreed that I shouldn't be driving at all, but last Christmas one of their presents to me was a generous Uber gift card. A hint?
This whole experience has made me re-examine the wisdom of continuing to drive.  Yes, I can use Uber to go to the grocery store, the hairdresser, the post office… But how would I empty my trash?  Would I have to call Uber to take me to the trash compactor which is at the other end of my complex's parking lot since I can no longer walk that far without the fear of falling?  I'm sure one of my wonderful neighbors would take my trash, but just the thought of imposing on them is completely contrary to the strong independence I have always maintained. And what about my doctors, who are twenty miles away?  
Also, as I have aged, my horizons have shrunk to the point where my social life now consists almost exclusively of meeting friends from near and far for lunch. Sure, the money I would save on car lease payments and insurance would certainly finance Uber for these excursions; but it's not the same as just spontaneously hopping in the car when I want to go somewhere. It would be a constant reminder that I'm no longer young.  Very depressing.