As a result, too few health care workers are going into the field and too many are switching to more lucrative specialties. And because the average age of addiction specialists is higher than in other professions, demographers predict a behavioral health retirement boom in the next five years.
Between now and 2020, the addiction services field will need to fill more than 330,000 jobs to keep pace with demand, of which more than half are the result of people retiring and switching to other occupations .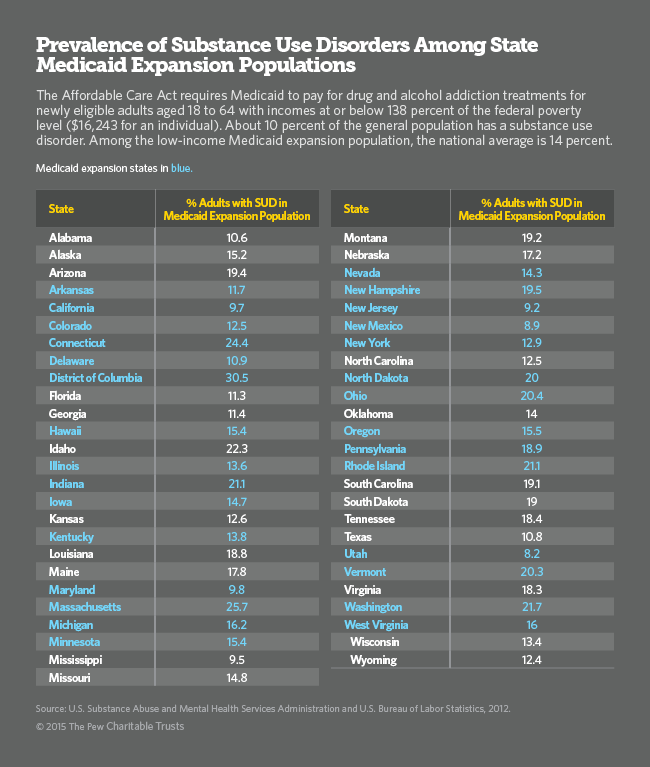 Of the roughly 23 million Americans who suffer from drug and alcohol disorders, only 11 percent receive treatment at a specialty facility, according to the most recent 
National Survey on Drug Use and Health
.
That compares to US treatment rates as high as 80 percent for diseases such as diabetes and hypertension. Part of the reason for lack of treatment has been inability to pay. With billions in private insurance and Medicaid dollars becoming available, that is expected to change. 
But questions remain about how the existing addiction services industry will manage the expansion, whether new businesses will enter the market and how many providers will take Medicaid patients. Today, only 55 percent of addiction practitioners accept Medicaid reimbursements, which tend to be lower than private insurance.
Another reason many substance abusers go without treatment is the social stigma connected with addictions and mental illness. To avoid being labeled, many hide their drug or alcohol use, and refuse to admit they have a problem. With more money available for treatment and increased public concern over the nation's rising death toll from drug addictions, experts are hopeful the stigma will dissipate and more health care professionals will be drawn to the field.
The Affordable Care Act eventually should spur more competitive salaries for behavioral health professionals. But for now, it is complicating matters, Vaughn said. Both Medicaid and private insurers require levels of professional licensing and credentialing that were not needed when addiction services were funded primarily by federal grants. In addition, many of the mostly small providers in the industry have no business experience negotiating contracts with Medicaid managed care organizations or filing claims for Medicaid and private insurance.
It will be largely up to states to make the changes needed to develop an adequate addiction treatment workforce. The federal government has offered model licensing guidelines that define a so-called "scope of practice" for each job title in the behavioral health profession, but states will have to create licensing laws and regulations. States could also encourage more people to go into the profession by offering to repay student loans and funding local colleges.
In addition, state Medicaid agencies will need to reach out to the existing addiction industry and provide business training to enable them to file claims for the billions in new funding for drug and alcohol treatments. Most important, Vaughn said, Medicaid rates for addiction services need to be raised to provide a reimbursement benchmark that is closer to the fees paid to practitioners in other health care professions.
Copyright © 1996-2015 The Pew Charitable Trusts