By Doris O'Brien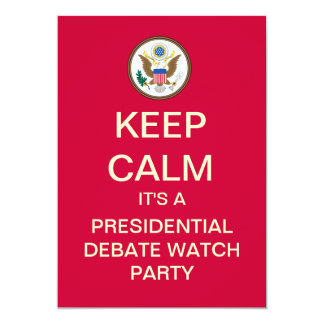 I spent a good chunk of my adult life teaching public speaking to college students.  Some years ago, a tome called The Book of Lists was compiled by David Wallenchinsky, his father, Irving Wallace, and sister, Amy Wallace, who researched and ranked items in sundry categories. In the list of 'greatest fears,' speaking in public was ranked number one, beating out other commonly dreaded fears like heights, bugs, deep water, sickness, dogs, darkness — and even death.  Perhaps that's the reason why a college course in public speaking used to be mandatory.  But that was before the greatest fear among academics became coaxing fragile, self-absorbed students out of their protective comfort zones.
Above: Zazzle Debate Invitation
My time spent judging oratorical skills naturally compels me to scrutinize the public performances of political candidates.  And in this election year, I am having a field day — though you won't find me gamboling across said field in unbridled glee.
It is pretty obvious that neither Hillary Clinton nor Donald J. Trump are public speaking heavyweights. At the Democratic Convention, Team Hillary tried to ease expectations about her acceptance speech by pointing out beforehand that she is no titan of elocution, compared to, say, our present president or even, for that matter, the former president to whom she is married.
Still, speechifying has become an increasingly significant factor in the vetting of presidential wannabes, even if it comes with the risk of being bombarded by partisan verbosity.  Television, of course, has made a tremendous difference in our ability to judge the aspects of a candidate's speaking performance: content, delivery, and body language. 
Before the electronic revolution, voters who wanted to see and hear candidates had to go out and find them in the flesh.  My mother frequently told the story of how, as a young child, she was taken to a whistle-stop to observe Theodore Roosevelt orating from the rear platform of his campaign train.  She recollected seeing the gas lamps being lit in the station and her father hoisting her onto his shoulders to get a better glimpse of the happening.
But the convenience of technology brings with it the downside of overexposure and repetition.  And the more candidates jaw on the hustings, the more vulnerable they become to criticism. Trump is facing the added factor of a basically critical press that pounces on and parses his every word. You'd think he'd would learn by now to stick to script. But public speaking is a complex process in which the whole is greater than the sum of its critics. By being outspoken  — or speaking out of turn — Trump may feel that he gains as much as he loses.  
The content of political speeches has become largely boiler plate, cobbled together by professionals, with some input from  the candidates themselves. That's what made the hubbub over the similarity between passages of Melania Trump's present and Michelle Obama's past convention speeches so ludicrous, since, presumably, neither was written by either lady.   So who's stealing from whom?   
Naturally, the safest form of delivery is that of reading the speech from a script or a teleprompter. But Trump, an inveterate risk taker, refuses to play it safe.  He often repeats phrases, as if to nail them down.  And while his supporters profess admiration for his talking 'extemporaneously,' he is technically doing no such thing.  By definition, 'extemporaneous' means to speak from notes, as opposed to memorization or reading from a script. Donald ventures even further out on a linguistic limb.  He adlibs.  And that could prove to be his undoing.
Pages: 1 · 2