By Christine Vestal, Stateline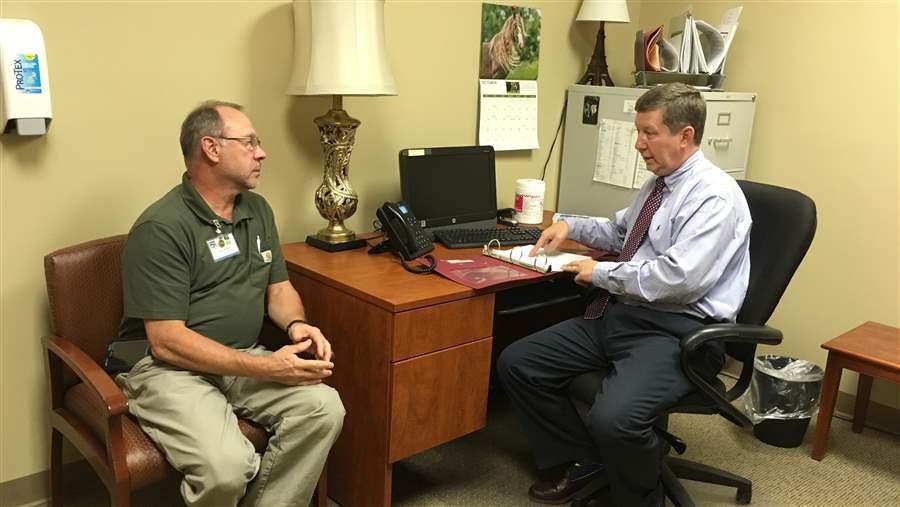 Dr. Michael Wilkerson discusses a patient's case with a nurse at a Bradford Health Services addiction treatment facility in Warrior, Alabama. When doctors become addicted to drugs or alcohol, confidential state programs must balance doctors' welfare and patient safety. © The Pew Charitable Trusts
The day Dr. Arthur Green (not his real name) checked into his rustic cabin here at Bradford Health Services, he said he doubted he could beat his decadeslong struggle with alcohol and find joy again in treating patients. Three weeks later, he said, he was convinced otherwise.
For Dr. Mary Waters (not her real name), it took six weeks to see a way out of her depression, anxiety and addiction to prescription painkillers. But now she says she's confident and excited to return to practice.
They are among hundreds of physicians from across the country who come to this quiet, pine-shaded retreat 25 miles north of Birmingham, where they can get mental health and addiction treatment without jeopardizing their medical licenses.
Bradford's addiction treatment regimen isn't unique ? more than a dozen other addiction centers across the country offer similar programs but when combined with other services offered by state organizations known as physician health programs, it is extraordinarily effective.
Studies have found that these confidential programs have about an 80 percent success rate, far higher than the typical success rate of 50 percent for the general population. Researchers believe its rewards-based strategy and extensive follow-up care could help many more of the roughly 20 million Americans who suffer from opioid and other drug and alcohol addictions.
The average person who is addicted to opioids and other substances relapses multiple times before maintaining long-term sobriety, even when treated with highly effective addiction medications and evidence-based behavioral therapies. In an opioid epidemic that is killing more than 170 Americans every day, finding effective addiction treatment can make the difference between life and death.
Pages: 1 · 2