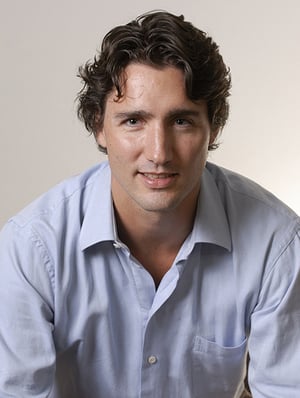 By Diane Girard
Canada has a new, young, attractive Prime Minister and people are suddenly plastering pictures of him everywhere, especially in the online media. There will probably be a rush of single people wanting to enter the "true north strong and free" so they can meet someone gorgeous. Well, yes, many Canadians are beautiful but we don't like to brag about it, and that's not why Justin Trudeau won the election.
Photo by Trudeau pour Papineau, Creative Commons licensed
In my opinion, the Liberals and Justin Trudeau's team won the election because the Conservatives, led by the ultimate control-freak Stephen Harper, decided that running a mean-spirited anti-Muslim anti-almost-anything-progressive campaign would appeal to the voters who had supported the Conservatives all along and that would give his party enough votes to win. He said that it was his decision and his decision alone, to run that campaign and given his need to control every tiny thing, there is little doubt that's true.
I say Stephen Harper made the wrong choices. However, he has never been able to admit it. That is why some of us are not sure if he's a real Canadian. He never says he's sorry.
It turns out that the Conservatives, or rather  the Harper Conservatives, thought that there were only minor rumblings of dissent from the populace and that discontent could easily be quelled by throwing a few dollars at the middle class and saying taxes would be cut. The Canadians who disapproved of the undemocratic legislation which contravenes the Canadian Charter of Rights and Freedoms and was rammed through parliament by the Harper Cons would merely mutter in their beer and not do anything. Mr. Harper was wrong again.  
We are a polite nation. Even our demonstrations against government actions are polite (well, nearly always). When we protest, we make posters, we sing, and most important, we talk to each other about how to unite to make change happen.
Talk led to action, polite but effective action. Many different groups opposed the regressive changes made by the Conservatives (the Harper Cons) during their ten years in power. More and more people agreed that the government absolutely had to be defeated for the sake of preserving Canada.  And, the only way to do that was to unite behind the centrist party which had the best chance of winning. Grass roots organizations held candidates debates, ran forums, read party platforms and opined on them and urged people to vote together. The fear that the Harper Cons would win again by dividing the left-wing vote led to a consolidation of the leftish vote and to strategic voting. Many voters who had chosen the New Democratic Party in past elections voted for the Liberals this time. The Liberals also received votes from some former members of the now extinct Progressive Conservatives, votes from indigenous people who hadn't voted before, student voters and throw-the-bums-out-because-they-smell-now voters. In the end, the result was Liberal majority.
Justin Trudeau was consistently underestimated by the Conservatives. Too young, too shallow, they said.  When it was already too late in the campaign; they decided it was time to throw a scare into 'ethnic' voters. Brothels and more drugs and evil people will be in your neighborhoods, folks. And, marijuana will be legalized — leaping lizards — that's scary.  I wonder what Harper knows about downtown slum neighborhoods in our major cities. You can't see much through the window of a limo and maybe that was part of the problem.
Mr. Harper wasn't interested in interacting with ordinary Canadians, or Members of Parliament, or the press, or scientists (muzzle them before they spill the truth), or anyone really, except when it suited his political purpose. On the other hand, Justin Trudeau spent a lot of time going around the country and talking with Canadians about his positive vision for the country and seeking their input, adding young people to his supporters, and helping to rebuild the party.
He didn't indulge in personal attacks.  He laid out the Liberal platform at the right time, leaving the Conservatives less time for rebuttal. He's personable, he's handsome, he's an Arts graduate (imagine that!) and he's a boxer. His partner, Sophie Gregoire-Trudeau, and his young children are the most important people in his life.
He knows Canada can't be micro-managed by one man so he has chosen knowledgeable people to work with. The Liberals have promised many changes so he and his party have a lot of work to do to make them happen. He knows that isn't easy. He didn't talk often about his father, former Canadian Prime Minister, Pierre Trudeau, but when he did Justin Trudeau made it clear that he is his own man, and he is also his father's son. He supports the Canadian Charter of Rights and Freedoms and he insisted that Liberal candidates support it and therefore support women's freedom of choice.
There is steel in his spine. I for one, am in his corner.
©2015 Diane Girard for SeniorWomen.com