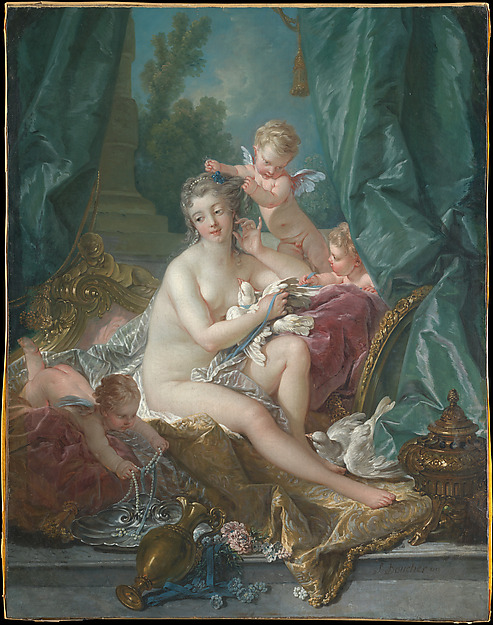 The Toilet of Venus, 1751, François Boucher; Oil on canvas, Lent by the Metropolitan Museum of Art,  Bequest of William K. Vanderbilt, 1920 
The next section focuses on depictions of love, which, despite their varied subjects and settings, were consistently popular among American viewers. On loan from the Frick Art & Historical Center in Pittsburgh is Fragonard's painted sketch for part of his Progress of Love ensemble, a series originally created for the pleasure pavilion of another mistress of Louis XV, Madame du Barry. Other works include Noël Nicolas Coypel's Abduction of Europa (1726–1727) from the Philadelphia Museum of Art, which was a parting gift from Joseph Bonaparte to his friend, the American general Thomas Cadwalader, and Louis Rolland Trinquesse's An Interior with a Lady, Her Maid, and a Gentleman (1776) from the Wadsworth Atheneum Museum of Art.
Opulent portraits of the period's courtiers, pageboys, housewives, and financiers make up the exhibition's next grouping. The ornateness of the dress and surroundings in these paintings offered American collectors a window into the lavish French lifestyle. Nicolas de Largillierre's Portrait of Marguerite de Sève, Wife of Barthélemy Jean Claude Pupil (1729), from the Timken Museum of Art in San Diego, joins Jacques Louis David's Portrait of Jacques François Desmaisons (1782) from the Albright-Knox Art Gallery in Buffalo, NY.
The latter had been passed down through generations descended from Desmaisons, an architect to Louis XVI, before being purchased in 1905 by the French-American financier David David-Weill and then acquired by the Albright-Knox in 1944 through Wildenstein and Co., Inc., a gallery responsible for bringing many of the paintings on view to American audiences. Another lesser known gem is Marie Victoire Lemoine's Portrait of a Youth in an Embroidered Vest (1785) from the Cummer Museum of Art & Gardens in Jacksonville, Florida.
Joseph Ducreux, Le Discret, c. 1791
oil on aluminum, transferred from canvas;
Spencer Museum of Art, The University of Kansas
America Collects continues by exploring both playful and fanciful sides of the era through paintings such as Antoine Watteau's Perfect Accord (1719) from the Los Angeles County Museum of Art. Also on view is Joseph Ducreux's Le Discret (c. 1791), a little-known self-portrait which was the first work by this artist — a court painter to Marie-Antoinette—to enter an American collection when it was acquired by the Spencer Museum of Art at the University of Kansas in 1951. A section on masquerade features Drouais's Portrait of Carlos Fernando FitzJames-Stuart, Marquess of Jamaica (1765), from the Birmingham Museum of Art. Long considered a portrait of Madame du Barry in costume, recent research revealed the actual subject to be a young Spanish nobleman.
Artists trained at the French Royal Academy are the focus of the following section. Two works by Elisabeth Vigée Le Brun, accepted into the prestigious institution thanks to the support of Marie-Antoinette, include The Artist's Brother (1773) from the Saint Louis Art Museum and Self-Portrait (c. 1781) from the Kimbell Art Museum. On loan from the Worcester Art Museum is Guillaume Lethière's Girl with Portfolio (c. 1799), below, a portrait by one of the few mixed-race artists to find success at the French academy.
The exhibition closes with two somber themes of interest to Americans. First are neoclassical paintings of Greek heroes such as Pierre Peyron's Death of Alcestis (1794) from the North Carolina Museum of Art and Jean-Antoine Théodore Giroust's Oedipus at Colonus (1788) from the Dallas Museum of Art.
Finally, the spirit of Enlightenment is evident in paintings that document nature or the passage of time. For instance, Hubert Robert's Octavian Gate and Fish Market(1784) is an architectural fantasy that is now believed to be the prime version of a similar composition at the Musée du Louvre, Paris. Owned in the late 19th century by Henderson Green of Hyde Park, New York it is one of the earliest 18th-century works to come to America, and is now in the collection of the Frances Lehman Loeb Art Center at Vassar College.
The exhibition was organized by Yuriko Jackall, assistant curator, department of French paintings, National Gallery of Art, Washington.
Girl with Portfolio, circa 1799, Guillaume Lethiere;  oil on canvas, Lent by Worcester Art Museum



Pages: 1 · 2